NAVA Gamer's Gathering, September 30th: "TEST YOUR MIGHT!"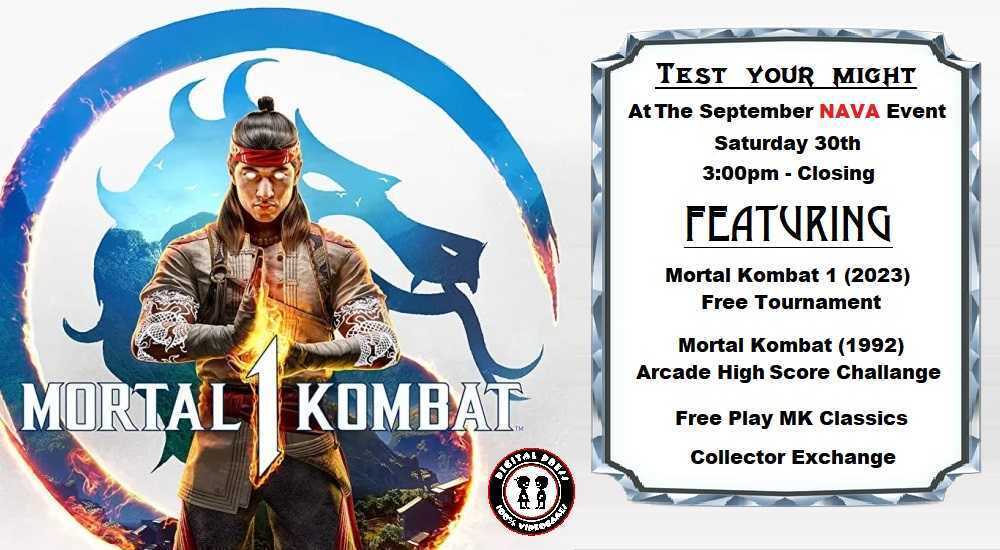 NAVA = North Atlantic Videogame Aficionados. This is a FREE event bringing gamers together for competition, trading, and chatter.
Previously at NAVA...
- We celebrated all things POKEMON with trading, events and competition!
- The arcade challenge was Taito's ZOOKEEPER. Aristotle logged the high score of 146,180 and earned a $20 gift certificate.
- The 6pm event was POKEMON STADIUM 2 BATTLE. Our top trainer Chris "Squish" received a $20 gift certificate for skill in battle.
- Gamers, collectors and friends shared their recent adventures and sold or traded their goods.
In This Month's NAVA: We celebrate thirty-one years of Mortal Kombat! The storied history, from the groundbreaking 1992 arcade hit to this month's new release for the franchise, there is a ton of history to cover here. From the classic battle of the 16-bit home versions, to the polarizing movie (the first one is awesome), there have been soundtracks, graphic novels, toy lines, animated series, web series... let's face it, Mortal Kombat is here to stay.
Arcade Challenge: The original Mortal Kombat was an instant arcade hit. With the technical skills and memorization required to the introduction of hilarious fatalities, it set a new standard for violence and established the foundation for the franchise. Test your might! Be the best at this game on this one day by logging the highest score on our arcade cabinet by 9pm and win a nifty $20 gift certificate. Arcade challenge games are set to FREE PLAY all day, but please remember to let everyone get a shot. If you get the high score, move on, and no hogging the cabinet! Also if you have won last month's arcade challenge you are not eligible to win this month's challenge.
6PM TOURNAMENT: Mortal Kombat 1 (which is the name of the latest game, don't blame us if it's confusing) on PS5! Who can master fatalities... or button mashing? Let's find out. Sign-ups begin at 3pm, the tournament starts after 6pm and its first-come, first-served in this FREE-to-join tournament.
Remember, feel free to bring a box or two of your trade goodies. We'll help you administer sales and get you set up somewhere in the store to sell your goods. NAVA is a time for trading! Also, if you have a Digital Press or NAVA t-shirt, wear them for a for an additional 5% discount on our already low-low prices 
 If you don't have a Digital Press t-shirt, ask us how to buy one while you're here. It's NAVA time, people! GAME ON.
RSVP (optional): http://www.facebook.com/digitpress?sk=events
When: Saturday, SEPTEMBER 30, 3PM-10PM.
Where: Digital Press Videogames: http://tinyurl.com/7nobzcr
What happens: Gaming, trading, impromptu tournaments, big prizes! Extra game stations are set up around the store. Attendance is FREE. Half price for kids!
What can I bring?: It's nice to share. Snacks, soda and water for your community are always appreciated.