Thanksgiving And Black Friday At Digital Press Videogames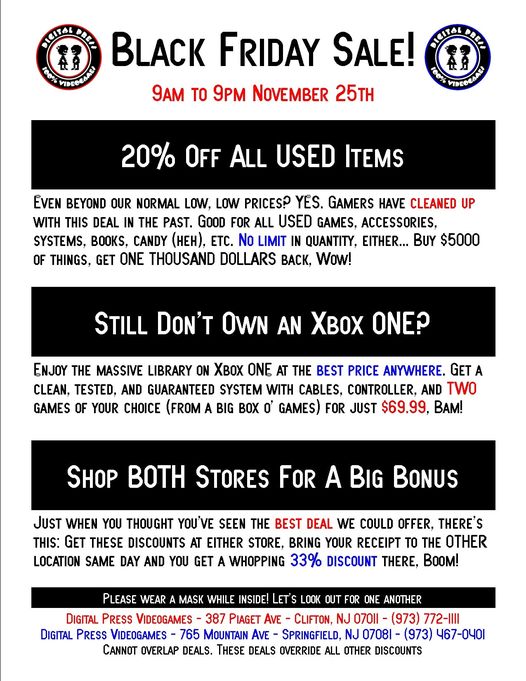 Happy Thanksgiving, friends!

We want to let everyone on our list know that as always we will be OPEN on Thanksgiving Day, from noon until 5pm. And the day after, "Black Friday", we will have extended hours, opening at 9am and closing at 9pm. Details about the sale on Black Friday follows. Enjoy your holiday!

We ask that everyone wears a mask inside the store on Black Friday, let's look out for each other!

20% Off All USED Items
Even beyond our normal low, low prices? YES. Gamers have cleaned up with this deal in the past. Good for all USED games, accessories, systems, books, candy (heh), etc. No limit in quantity, either... Buy $5000 of things, get ONE THOUSAND DOLLARS back, Ka-pow!
 
Still Don't Own an Xbox One?
 Enjoy the massive library on Xbox One at the best price anywhere. Get a clean, tested, and guaranteed system with cables, controller, and TWO games of your choice (from a big box o' games) for just $69.99, Bam!
 
Shop BOTH Stores For A Big Bonus
 Just when you thought you've seen the best deal we could offer, there's this: Get these discounts at either store, bring your receipt to the OTHER location same day and you get a whopping 33% discount there, Boom!