NAVA Gamer's Gathering, August 27: "Remember The Fallen"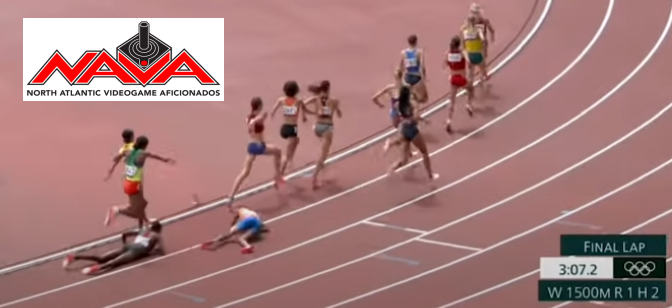 NAVA = North Atlantic Videogame Aficionados. This is a FREE event bringing gamers together for competition, trading, and chatter.
Previously at NAVA...
- We featured a store full of Nintendo's Punch-Out!!, including both arcade versions, the NES, SNES and Wii, all free to play.
- Gamers, collectors and friends shared their recent adventures and sold or traded their goods.
- The arcade challenge was Punch-Out!! Our high score winner was Mark Lara who fought his way to 162,610 and earned the day's high score challenge and a $20 gift certificate.
In This Month's NAVA: Digital Press has always been an advocate of the "also-rans": those games and consoles that weren't necessarily bad but didn't have enough firepower to stay ahead of the competition. Our highlight on this is the Sega Saturn, which was submarined when Sony's PlayStation came out a few months later in 1995. It wasn't alone, other consoles that were hyped include the "not quite ready for prime time" Panasonic 3DO and the lacking-software last gasp for Atari, the Jaguar. We'll also feature the GCE Vectrex, which came so late to the console wars that most of its life was during the crash of the industry. We'll have plenty of software to try out for these systems, all free to play. See if they fare better today than history's version of them. NOTE: We also have a Virtual Boy and Dreamcast running at EVERY NAVA, they're more at home than ever on this day.
Arcade Challenge: Atari reigned for many years both at home and in the arcades, but even their glory years didn't always connect with their audience. Released by Atari in 1983, I, Robot was the first video game to use 3D polygon graphics and the first to allow players to change camera angles. It's a really fun game but was a commercial failure, reportedly producing less than 1500 total cabinets worldwide. Well on this day, I, Robot and YOU are the stars. Be the best at this game on this one day by logging the highest score on our arcade cabinet by 9pm and win a nifty $20 gift certificate. Arcade challenge games are set to FREE PLAY all day, but please remember to let everyone get a shot. If you get the high score, move on, and no hogging the cabinet! Also if you have won last month's arcade challenge you are not eligible to win this month's challenge.
Remember, feel free to bring a box or two of your trade goodies. We'll help you administer sales and get you set up somewhere in the store to sell your goods. NAVA is a time for trading! Also, if you have a Digital Press or NAVA t-shirt, wear them for a for an additional 5% discount on our already low-low prices 
 If you don't have a Digital Press t-shirt, ask us how to buy one while you're here. It's NAVA time, people!
RSVP (optional): http://www.facebook.com/digitpress?sk=events
When: Saturday, AUG 27, 3PM-midnight.
Where: Digital Press Videogames: http://tinyurl.com/7nobzcr
What happens: Gaming, trading, impromptu tournaments, big prizes! Extra game stations are set up around the store. Attendance is FREE. Half price for kids!
What can I bring?: It's nice to share. Snacks, soda and water are always appreciated. Cakes have been very popular as well.