Auction Night at NAVA! Saturday, September 21st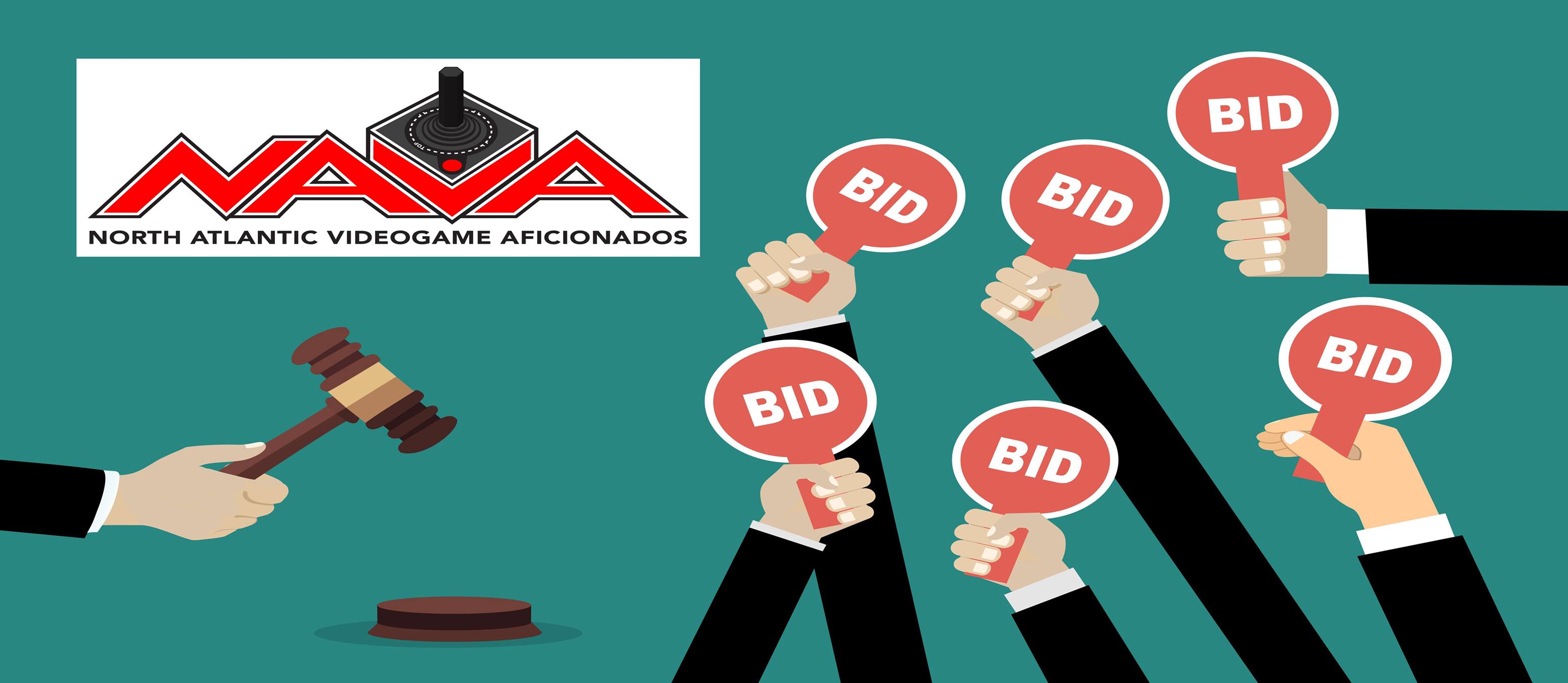 NAVA = North Atlantic Videogame Aficionados. This is a FREE event bringing gamers together for competition, trading, and chatter.

Previously at NAVA...
- Shoot-em ups (SHMUPS) took center stage as "bullet hell" was staged on game systems all over the store!
- The arcade challenge was Konami's "Sexy Parodius"!
- Games and systems traded hands between attendees who brought their own trade boxes.

See it all in our photo gallery section at the store's website and feel free to comment!
http://dpvideogames.com/galleries/

NOTE THAT THIS NAVA occurs a week earlier than usual, mark the date!

In This Month's NAVA: We haven't had a proper auction in the store since 2014 and that one went really well so let's at least make this an annual feature of NAVA. THIS will be Auction Night 2019, where buyers will bid on some primo videogame-related items beginning at 6pm! A few of these items will be presented from the Digital Press archives, including two huge "swag" bundles, one Mario themed, one Pac-Man themed (see below for photos).

CHARITY: 10% of all sales will go to a new favorite cause of ours. The "One Handed Gamer" project, championed by a YouTuber (Chris Saglimbene) with Cerebral Palsy who provides information and encouragement to disabled gamers. Some auctions, including the ones presented by Digital Press, will be donated 100% to this cause. Chris will be on hand to speak briefly prior to the start of the auction so you know exactly what it's all about.

BUYERS: Just be in the store by 6pm. Seating is limited! All sales will be cash transactions unless the seller indicates PayPal is acceptable, which will be announced at the start of each item's bid process. Items will be exchanged at the end of the full auction (should be between 8pm and 9pm).

SELLERS: If you have an item that you think will be "auction-worthy" (highly desirable, collectible, rare, or high-end stuff), you can bring it with you between 2pm and 5pm on the auction day for screening where we'll decide if it will fit into the day's lineup. Alternatively, you can send an email to us at digitalpress@email.com from now right up until auction day where we can set everything up in advance... which would be great!

Game systems will still be set up as usual around the store but will be turned off during the auction (approximately 6pm through 9pm), and the usual selling and bartering from trade boxes is welcome all day, as always.

Remember to get your trade boxes in order so we can all buy, sell and trade together. Wear your NAVA or Digital Press t-shirt for the maximum discount on store purchases. It's NAVA time!

RSVP (optional): http://www.facebook.com/digitpress?sk=events
When: Saturday, SEPTEMBER 21, 3pm to midnight.
Where: Digital Press Videogames: http://tinyurl.com/7nobzcr
What happens: Gaming, trading, tournaments, big prizes! Extra game stations are set up around the store. Attendance is FREE. Half price for kids!
What can I bring?: It's nice to share. Snacks, soda and water are always appreciated. Cakes have been very popular as well.