NAVA Gamer's Gathering, Feb 23: "Gangs In The Street"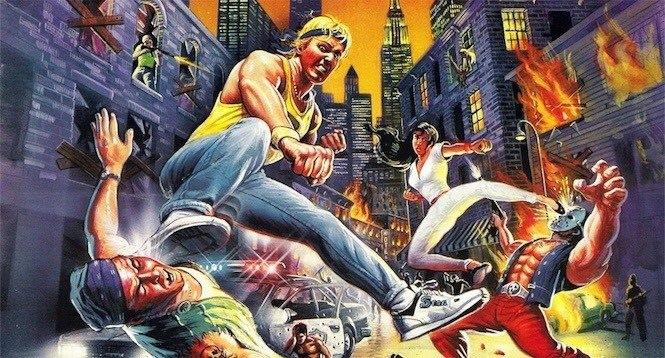 NAVA = North Atlantic Videogame Aficionados. This is a FREE event bringing gamers together for competition, trading, and chatter.

Previously at NAVA...
- In our last episode, we managed NAVA despite government shutdown. In fact, the government opened up the day before NAVA thanks to us. You're welcome.
- The arcade game challenge was the wall-building game RAMPART. Matthew D put up the high score of the day and walked away with a cool $20.
- The 6PM tournament was TETRIS ATTACK on Super NES. Our new local champion is Steve L!
- Games and systems traded hands between attendees who brought their own trade boxes.

See it all in our photo gallery section at the store's website and feel free to comment!
http://dpvideogames.com/galleries/

In This Month's NAVA: It's time to take it to the streets! This month will be a celebration of a beloved (and greatly missed by many of our regular attendees) genre, the "side scrolling beat-em-up". Unlike "tournament style" or head to head fighting games, this genre often required players to work together against hordes of bad guys. On this day, we will destroy hundreds, if not thousands of such bad guys. We're going to feature the THIRD game in THREE popular series of this genre: Sega Genesis Streets of Rage 3, Super Nintendo Final Fight 3, and NES Double Dragon III. Let's thump the baddies.

Arcade challenge! What better way to guard the neighborhood against thugs than doing it in the hood. As guardians. Hm? Atari's little-known sequel to Pit Fighter is the very game, it's called "Guardians Of The Hood" and it takes Pit-Fighter's digitized style out of the PVP mode and into a PVE mode. Let's thump the baddies! Be the best at this game on this one day by logging the highest score on our arcade cabinet by 9pm and win a nifty $20 gift certificate. Arcade challenge games are set to FREE PLAY all day, but please remember to let everyone get a shot. If you get the high score, move on, and no hogging the cabinet! Also if you have won last month's arcade challenge you are not eligible to win this month's challenge.

Tournament! It's easier to clean up the street with two players, but who is the best TURTLE? You guessed it, we're going to hold our very first Teenage Mutant Ninja Turtles IV: Turtles In Time tourney. Since the game is cooperative, the player with the highest score at the end of stage 1 will progress to the next round. Practice now! Who among NAVA members has the best skills? Cowabunga, let's find out! Sign-ups begin at 3pm, the tournament starts around 6pm and its first-come, first-served in this FREE-to-join tournament.

Remember to get your trade boxes in order so we can all buy, sell and trade together. Wear your NAVA or Digital Press t-shirt for the maximum discount on store purchases. It's NAVA time!

RSVP (optional): http://www.facebook.com/digitpress?sk=events
When: Saturday, FEBRUARY 23, 3pm to midnight.
Where: Digital Press Videogames: http://tinyurl.com/7nobzcr
What happens: Gaming, trading, tournaments, big prizes! Extra game stations are set up around the store. Attendance is FREE. Half price for kids!
What can I bring?: It's nice to share. Snacks, soda and water are always appreciated. Cakes have been very popular as well.